---
Town of Dairyland
Douglas County, Wisconsin
Spring Election
(State offices to be elected include Court of Appeals Judge and Circuit Court Judge; Local election for School Board)
to be held on
Tuesday, April 3, 2018
The polling address for the Election is:
Dairyland Town Hall
15208 S State Road 35
Dairyland, WI 54830
Polls are open from 7:00 a.m. – 8:00 p.m.
Accessible to elderly and disabled voters.
Contact Joni Hogie, Clerk @ 715-244-3000 with any questions/concerns VOTING BY ABSENTEE BALLOT
Re: Absentee Ballots
Any qualified elector who is unable or unwilling to appear at the polling place on Election Day may request to vote an absentee ballot. A qualified elector is any U.S. citizen, who will be 18 years of age or older on Election Day, who has resided in the ward or municipality where he or she wishes to vote for at least 10 days
before
the election. The elector must also be registered in order to receive an absentee ballot.
TO OBTAIN AN ABSENTEE BALLOT YOU MUST MAKE A REQUEST IN WRITING.
Contact your municipal clerk and request that an application for an absentee ballot be sent to you for the election. You may also request an absentee ballot by letter or online. Your written request must list your voting address within the municipality, the address where the absentee ballot should be sent, if different, a copy of a photo id and your signature.
Special absentee voting application provisions apply to electors who are indefinitely confined to home or a care facility, in the military, hospitalized, or serving as a sequestered juror. If this applies to you, contact the municipal clerk.
You can also personally go to the clerk's office, complete a written application, and vote an absentee ballot.
Dairyland Town Hall Office Phone: 715-244-3000
15208 S State Road 35 Office Hours: Call for appointment
Dairyland, WI 54830 Email: DairylandTownClerk@hotmail.com
The deadline for making application to vote absentee by mail is 03/29/2018 for the Spring Election.
The first day to vote an absentee ballot in the clerk's office is 03/13/2018
The last day to vote an absentee ballot in the clerk's office is 03/29/18 (NOTE CHANGE DUE TO EASTER WEEKEND) for the Spring Election.


NOTE: Wisconsin law now requires ballots to be returned by Election Day in order to be counted.
SAMPLE BALLOT:
​http://www.douglascountywi.org/DocumentCenter/View/8342
​
WELCOME TO THE TOWN OF DAIRYLAND, WISCONSIN!
According to the United States Census Bureau, the town has a total area of 140.8 square miles (364.7 km²), of which, 140.2 square miles (363.1 km²) of it is land and 0.6 square miles (1.6 km²) of it (0.43%) is water. Dairyland is located 25 miles southwest of Solon Springs; 36 miles south of the city of Superior; and 20 miles northeast of Danbury. Dairyland is a town in Douglas County, Wisconsin, United States. The population was 182 at the 2017 census. The unincorporated communities of Cozy Corner, Dairyland, and Moose Junction are located in the town.*The town of Dairyland was established April 1, 1919 signed by Governor Phillips. When Dairyland was formed, lumbering was the principal work. Afterwards, the Land and Cattle Company bought the land . The Land and Cattle Company induced people to buy farm land and gradually the town settled. Although most farms are now gone, the town still survives with many of the families from the first settlers here. Today, Dairyland is a recreational area. Hunting prevails here! Many parks and nearby water are terrific for camping and fishing. We also have abundant and beautiful trails for riding ATVs and sleds. Dairyland life is about appreciating our scenery, raising our families and keeping life simple. Come and enjoy our view! *information taken from:http://en.wikipedia.org/wiki/Dairyland,_Wisconsin

​


​
​
WINTER HAS ARRIVED!!
Below is the map for snowplowing. Yellow is top priority and purple is lowest priority.
Roads will be plowed after 3" of snow, 7 days a week.
​Sanding/salting will be done as needed.
​
​​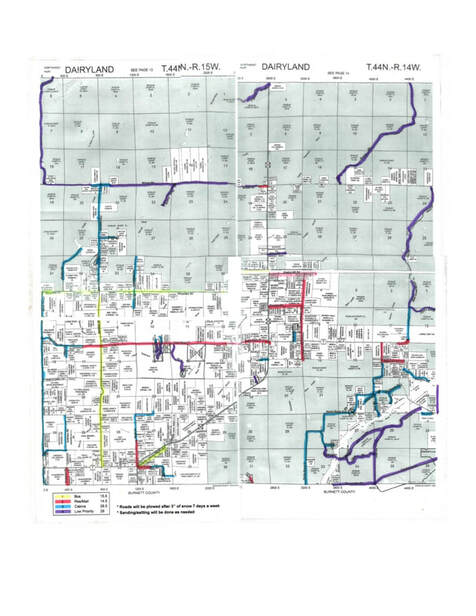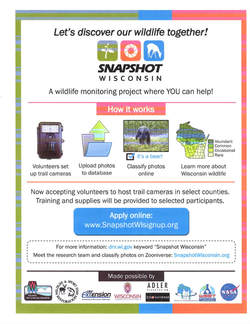 <An opportunity for all Douglas County folks!!!
---